Setting up Windows for the Connection
Switching the Connection On and Off
The first thing you need to do is make sure Windows Dial-up Server is installed. To do this go to the control panel and select Add/Remove Programs. Click the Windows Setup tab and open up Communications. Find Dial-up Server and check the box next to it if it's not already. Click OK and exit out of Add/Remove Programs. If Dial-up Server was not installed already it will be installed and you will be prompted to reboot. Go ahead and reboot if necessary.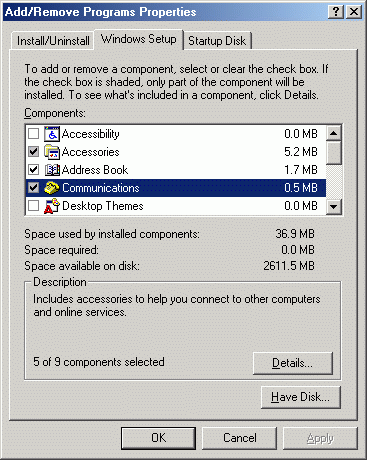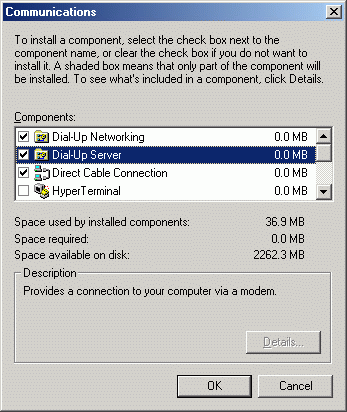 Next, make a shortcut on the desktop to the Dial-up Server configuration. You can do this by right-clicking on the desktop, and select New/Shortcut. In the dialog box enter C:\WINDOWS\RUNDLL32.EXE RNASERV.DLL,CallerAccess. This will give you quick access to the Dial-up Server.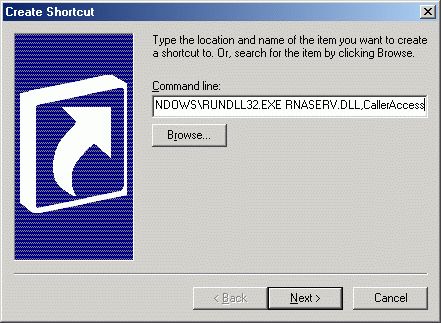 Now open up Dial-up server properties by using the shortcut you just made. Click the radio button next to Allow caller access and click Change Password. Set this password to the same thing you typed in the Basic Info tab of the internet options on the Dreamcast Web Browser.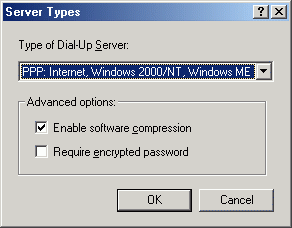 Now click on Server Type and select PPP: Internet for the type of Dial-up Server. Click Enable software compression and unclick Require encrypted password. Click OK, then go back and click No caller access in the main Dial-up Server dialog box, and then click Apply.
In order to trick the Windows Dial-up Server to pick up the line when the phone line is not ringing, you have to enter the standard modem answer command into the registry. Open the Registry Editor and browse your way to:
"My Computer\HKEY_LOCAL_MACHINE\System\CurrentControlSet\Services\Class\Modem\0000\Monitor".
If you have more than one modem installed you might not want "0000". Find to whatever one you're using for the Dial-up Server. Now set setting 2 to "ATA<cr>", so that it looks like the picture below.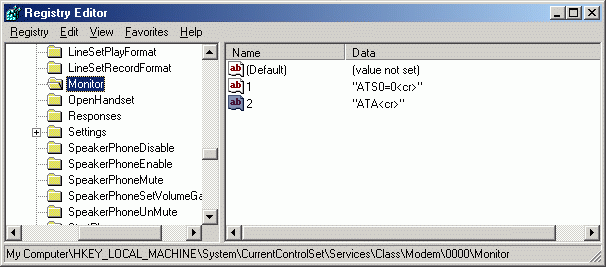 Ok, now Dial-up Server is ready to go!
Switching the Connection On and Off
Turning the Connection On:
To make Windows pick up the line and establish a connection, you will have to enable caller access through the Dial-up Server. Just open up the Dial-up Server configuration dialog box, and when the Dreamcast is dialing out, click Allow caller access, and then click either the Ok or Apply buttons. You can see what a successful connection looks like in the picture below. If you want to see what it looks like when everything is working together, click here.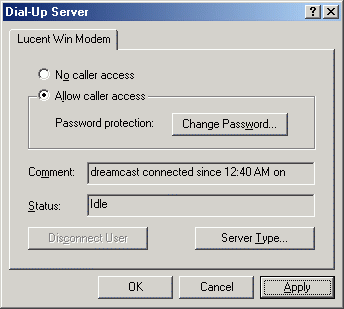 Turning the Connection Off:
To disconnect the Dreamcast connection just open up the Dial-up Server configuration dialog box and select No caller access, and click Ok or Apply.